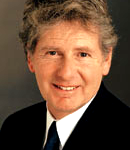 John Parisella is Quebec's Delegate General in New York, the province's top ranking position in the U.S. He is a former communications consultant and served as chief-of-staff to two Quebec premiers. You can contact him through the Quebec office in New York. He also writes a blog.
What do you actually do in your job? I represent Quebec interests in the Mid-Atlantic states which includes New York and Washington D.C. In addition to representation, I intervene and can negotiate on issues affecting Quebec's strategic interests. These include: energy , environment, commerce, organizing government and business missions, security-related matters , transport including high-speed rail , promotion of our culture, sharing of expertise, border-related subjects, and developing government and political networks . In addition, I participate actively in conferences and think tanks .Our office is the only General Delegation, giving me the role of senior representative in the United States for Quebec.
What is the hardest thing about your job? It is covering the territory. I have offices in NYC and Washington but I am invited in other cities within the eight states making up the Mid Atlantic region. Also, I am called to give conferences on US-Quebec relations in Canada. Time is the issue.
What do you most enjoy about it? Meeting very interesting people and living the American experience. The USA is very special and the people I deal with are friendly and cooperative. You can have extremes but you are always discovering and learning something. It is the most stable democracy in history and that says a lot.
Where were you born and raised? I was born in Montreal and raised there. My dad emigrated from Italy and my mom was an Irish woman born and raised in Montreal.
What did you study? Political Science, education and business management. I graduated from Concordia with a B.A. and a Master's degree from McGill University. I have two other diplomas from McGill and a Certificate in Senior Government Management from Harvard University (JFK School of Government).
What was your first job and what path led you to your work today? My first job was teaching high school. I then went into politics, government and community organizing (sound like someone you know?) Finally, I spent the last 15 years in business before taking this assignment. Teaching, political/conflict management and managing an advertising business did much to prepare me for this current job.
What is the best advice you received in the course of your career? Concentrate on the essential and avoid the superfluous.
Looking back, what are you most proud of? Teaching for 11 years, fighting for minority rights, defending Canadian unity, serving in government, managing a payroll in the private sector and representing Quebec.  I am most honoured to have served as Chief of Staff to Premier Robert Bourassa.
When and how do you start your day? Exercise and reading newspapers as early as 6:30.
Blogs or websites you find interesting or useful: Politico , Huffington Post , CNN, Macleans.ca and Cyberpresse.
Where are you most likely to be found when you're not working? Movies or at home, reading. NYC is also a great walking city.
If you had an alternative career, what would it be? I really love to teach . I am so happy in a classroom.
Favorite sports team? The Chicago Blackhawks in hockey, Colts in the NFL, Alouettes in the CFL,and Red Sox and the Dodgers  in baseball .
Who is your hero or heroine? Bobby Kennedy and Martin Luther King
Drink of choice? Sparkling shiraz occasionally.
Hobbies? Presidential politics and biographies. Watching football. I also like to write blogs. It is relaxing .
What is one worthwhile book you read in the past year? Counsellor by Theodore Sorenson.
What is one thing you'd like to learn more about? Hard to answer. Anything dealing with history.
What is your favorite place in Canada and your favorite place in the US? Montreal and Vancouver. In the US, I like New England most of all, and enjoy New York. Love Chicago and San Francisco.
What is one thing you'd like to tell Canadians about the U.S., and/or one thing you'd tell Americans about Canada? To Canadians: America is an outstanding country to discover and learn about nearly any subject. To Americans: listen and observe other parts of the world. Calling yourself the greatest is very subjective to the rest of the world. The rest of the world is changing faster than any other moment in recent memory. By the way, you did great on Egypt as you let them have their moment in history.
***
Also Get to Know… David Archibald, Susan Casey-Lefkowitz, Connect2Canada, Perrin Beatty, David Biette, John Parisella, Sheldon Alberts, Danielle Droitsch, Lee-Anne Goodman, David Wilkins, Christy Cox, Chris Sands, Birgit Matthiesen,  Scotty Greenwood, Luiza Ch. Savage
***
You can follow me on Twitter at luizachsavage