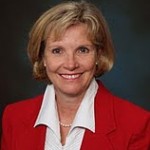 Birgit Matthiesen is the Senior Advisor, US Government Relations, to the President for the Canadian Manufacturers and Exporters Association.  In this capacity, Mrs. Matthiesen is the association's point person in the United States to advocate trade and economic issues on behalf of Canada's  manufacturing and export interests. She covers the Hill, the Executive Branch and works closely with U.S. associations such as the National Association of Manufacturers, the US Chamber of Commerce and other groups towards a common North American competitiveness cause.  The Canadian Manufacturers and Exporters is the only Canadian business group with a full time Washington representative.
Birgit started her career as a Canada Customs Inspector. She met her American husband at the border, literally. He was working as a US Customs inspector – at the same port of entry. True story. Now that's a bilateral relationship!!
You can contact Birgit Mathiesen through the Canadian Manufacturers & Exporters.
What do you actually do in your job? I am almost a mini-Embassy, without the staff. I watch out for new bills, regulations, or policy developments that are going to cause headaches for Canadian manufacturers doing business in the US – from tax policies to energy regulation. My day starts out by reading the daily Federal Register  – not sexy but a must. My rolodex is everything to  me.
What is the hardest thing about your job? Keeping up with all the issues – DC is fast paced, unpredictable and yet far too predictable.
What do you most enjoy about it? Working for Jay Myers, my CEO and President. His leadership style is provocative, energizing and always keeps me on my toes.
Where were you born and raised? Germany, a small town south of the border with Denmark.  Came to Canada as a four year old immigrant – right off the boat.  Too old to not remember and too young to have been afraid of what lay ahead for us.
What did you study? Political Science BA and graduate degree in International Relations
What was your first job and what path led you to your work today? Before I "worked the line" as a Customs inspector? I sold NHL programs at the Montreal forum, when it was still called the Montreal Forum. "Programme de la soiree, tonight's program!!!" Hey, it paid the rent.
What is the best advice you received in the course of your career? This is the one that stumped me frankly. My career was more shaped by events than any advice I received.
Looking back, what are you most proud of? Being able to represent Canada in the US, first at the Embassy in DC and now for CME.  Canada provided my family with so much opportunity and my career to a large degree has been my way of giving back.  Its how I get my mojo.
When and how do you start your day? The joy of my job  is that I get to shape my day according to what is "hot" and how I get to plunk CME interest right in the middle of things. I am most content at the end of my day when I have given voice to CME 's priorities – could be a media quote or a call back from a congressional office.
Blogs or websites you find interesting or useful? politico.com; www.nga.org; www.csg.org; Peterson institute; Brookings Institute
Where are you most likely to be found when you're not working? On the W&OD bike trail
If you had an alternative career, what would it be? A journalist.
Favorite sports team? Pass. Have none.
Who is your hero or heroine?  My friend Trish.  A young wife and mother whose family suffered a serious set back a couple of years ago. Her strength – brought the best out for her generation and her gender.
Drink of choice? Wine. Not the fruity stuff either.
Hobbies? The bike trail. Also see previous question.
What is one worthwhile book you read in the past year? Life of Pi
What is one thing you'd like to learn more about? Why women feel its ok to lead their life under a veil.
What is your favorite place in Canada and your favorite place in the US? Streets of Montreal in the summer and Mendocino California to be precise. But anywhere there is good conversation and good wine.
What is one thing you'd like to tell Canadians about the U.S., and/or one thing you'd tell Americans about Canada? Canadians don't get Americans. We think we do, but we don't. Same language, same culture perhaps. But the fundamental difference is the individual vs the community. Americans don't get Canadians. They don't have to and they don't want to. Canadians, get over it. Its not a bad thing. Its just the way it is.
Also Get to Know… David Archibald, Susan Casey-Lefkowitz, Connect2Canada, Perrin Beatty, David Biette, John Parisella, Sheldon Alberts, Danielle Droitsch, Lee-Anne Goodman, David Wilkins, Christy Cox, Chris Sands, Birgit Matthiesen,  Scotty Greenwood, Luiza Ch. Savage
***
You can follow me on Twitter under luizachsavage