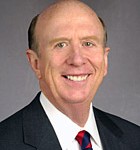 David H. Wilkins was the United States ambassador to Canada from 2005 to 2009, under then-President George W. Bush. He is currently at partner at the law firm Nelson Mullins, where — as chairman of the firm's Public Policy and International Law practice group – he represents businesses on both sides of the U.S.-Canadian border and advises clients on bilateral issues.
Before coming to Ottawa, Ambassador Wilkins had served for 25 years in the South Carolina legislature, including 11 years as Speaker of the House. He was state chairman of the Bush-Cheney '04 campaign and co-chair of the campaign in 2000. Most recently, Governor Nikki Haley of South Carolina tapped Ambassador Wilkins to chair her transition team as she worked to form her new administration.
Ambassador Wilkins is also currently the chairman of the Clemson University Board of Trustees, as well as a member of the boards of directors for AbitibiBowater; Porter Airlines; the Royal Bank of Canada, North America; and the Greenville Area Development Corporation.
What do you actually do in your job? I primarily perform government relations services on a federal level with a concentration on the US/Canada relationship.
What is the hardest thing about your job? Finding enough hours in a day to get it all done.
What do you most enjoy about it? Keeping in close contact with my friends and clients in Canada.
Where were you born and raised? Greenville, South Carolina
What did you study? I graduated from Clemson University with a BA degree in History and from the University of South Carolina School of Law.
What was your first job and what path led you to your work today?
My first job was during the summers of my school years was clearing brush and pulling chain for a surveyors crew. What led me to my work today was getting elected to the House of South Carolina and falling in love with the political process and governing.
What is the best advice you received in the course of your career? Take what you do seriously but don't take yourself too seriously.
Looking back, what are you most proud of? I am most proud of my immediate family. My wife of 39 years and my two sons and their wives and my twin grandchildren. On a professional basis, I am most proud of my service as United States Ambassador to  Canada under President Bush.
When and how do you start your day? Very early, getting up around 5:30 or 6:00 and working out at a local gym with a   trainer, when I am not traveling.
Blogs and websites you find interesting or useful? Drudge Report
Where are you most likely to be found when you're not working? Home
If you had an alternative career, what would it be? Coach or sportscaster
Favorite sports team? Clemson University Tigers.
Who is your hero or heroine? Ronald Reagan
Drink of Choice? Water and sometimes scotch
Hobbies? Tennis, sports and gardening
What is one worthwhile book you read in the past year? Decision Points by George W. Bush
What is one thing you'd like to learn more about? Wine
What is your favorite place in Canada and your favorite place in the US? Too many to name in Canada. In the US it is the coast of South Carolina.
What is one thing you'd like to tell Canadians about the U.S., and /or one thing you'd tell Americans about Canada? Canadians think they know everything about the US and they don't and Americans think they know enough about Canada and they don't. We should all strive to learn more about each other.
***
Also Get to Know… David Archibald, Susan Casey-Lefkowitz, Connect2Canada, Perrin Beatty, David Biette, John Parisella, Sheldon Alberts, Danielle Droitsch, Lee-Anne Goodman, David Wilkins, Christy Cox, Chris Sands, Birgit Matthiesen,  Scotty Greenwood, Luiza Ch. Savage
***
You can follow me on Twitter under luizachsavage