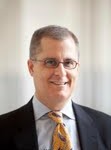 David Biette is the Director of the Canada Institute at the Woodrow Wilson International Center for Scholars in Washington, DC.
You can contact David through the Canada Institute.
What do you actually do in your job? The Canada Institute works to increase awareness and knowledge about Canada and U.S.-Canadian relations among U.S. policymakers and opinion leaders in three key areas of focus: energy/environment, trade, and borders/border security.
I work with policy makers and funders to find a way to engage an American audience on important topics in the bilateral relationship. Which issues are important? Which issues will become important? Can the topic get traction? Can it get an audience? What format is best for what issue (speech, discussion, closed-door conversation)?
I do a lot of reading, speak with people in industry, in governments, in NGOs, in universities to present different aspects of issues we're investigating. And I try to find funders who think these issues are worthy of their support.
For Canadians, I try to manage expectations about attention. For Americans, I try hard to increase understanding that Canadians are great partners.
What is the hardest thing about your job? Selling Canada. Most people like Canada and Canadians. In a policy sense, Canada rarely is a problem. George Shultz used to say that we needed to tend our garden, to maintain the relationship with Canada. It's hard, though, with problem areas such as North Korea, Afghanistan, and with the needs of the less developed world. Canada works: why should we pay attention to it?
What do you most enjoy about it? The Wilson Center has a smart, dedicated staff that is largely not ego-driven. Our mantra is "Dialogue in the public service" and that generally seems to work within the Center and with its mission.
We're looking forward to welcoming our new president, CEO, and director, The Honorable Jane Harman, who is giving up her seat in Congress where she represented the 36th district in California. She arrives at the Center on February 28th.
Where were you born and raised? I was born and raised in suburban Boston. You can't grow up in Boston and not know anything about Canada; several of my elementary school classmates had relatives in Nova Scotia, and the drive to Canada isn't far. My dad grew up in Maine speaking French; his grandparents had come from Quebec in the 1870s and 1880s. I remember meeting his cousins at a funeral, just after I'd got back from France. "C'est fun, la Frownce." And my great grandmother and her brothers homesteaded in Alberta in 1907; she stayed there for about 25 years before returning to Michigan, and some of the brothers stayed on in western Canada. She always had Maclean's magazine on the coffee table. So I guess there's some Canada in my blood.
What did you study? I attended Bowdoin College in Brunswick, Maine, where I got my BA. I majored in government (international relations) and Romance languages (French), and became interested in Canada when I took a course on environmental issues in the North Atlantic community. At the same time, I took a course on French Canadian literature, which really opened my eyes to some interesting and important political questions in Quebec and in Canada. Those ideas stayed with me and I went on to do an MA in international relations with a concentration on Canada here in Washington at the Johns Hopkins School of Advanced International Studies.
What was your first job and what path led you to your work today? My first job out of college was as a teaching fellow in English and American Studies at the Université de Clermont-Ferrand in France. I brought a lot of Canada into the American Studies classes I taught because I felt you couldn't look at the United States independent of Canada in how our societies developed. I then taught French at a boarding school in New Jersey for four years, where I was able to teach a course in French Canadian lit.
What is the best advice you received in the course of your career? One piece of advice I received was, "Don't put anything on your resume that you don't ever want to do again" because sure enough, that will be the one thing a potential employer wants. The other was, "Be nice to support staff." With them on your side, your job is a lot easier. With them not on your side, your job will be incredibly difficult.
Looking back, what are you most proud of? My marriage and my kids. I've got a wonderful spouse, and two fantastic kids who are intellectually curious, confident, happy, and can converse with adults.
When and how do you start your day? I'm up about 6:15, and try to get caught up on email and headlines on my bus/metro commute. Once in the office, it's check the major papers and a few blogs to see what might hit me during the day. And I need my coffee once I get to the office.
Blogs or websites you find interesting or useful: The main Canadian news sites: CBC, Globe and Mail, the National Post, the Star, Maclean's. I have to say I particularly like the National Post because it gives a different perspective. I try not to read any of the comments: the United States is not trying to take over Canada (think about it: do you think Republican majorities would want to bring in at least nine provinces to the political left of "mainstream America"?)
Where are you most likely to be found when you're not working? Home. In my single days in New York, I was out all the time. The last five winters it's been Friday nights at the pool timing high school swim meets. Spring, I try to watch at least one of my son's baseball games a week (those games go on forever so I try to limit it to one). In the summer I try to swim every night.
If you had an alternative career, what would it be? Mountain climber? Architect where I could put my creative and math/science sides together? Food writer?
Favorite sports team? I'm from Boston, what can I say: the Red Sox.
Who is your hero or heroine? This sounds kind of first grade, but maybe George Washington, but not for the usual reasons. Yes, he was a great leader, helped pulled together some squabbling colonies, reluctantly accepted the nomination to be president. His integrity kept him from personally benefiting from government development as the District of Columbia became the American capital. He delegated well, was multi-talented, refused to become a leader-for-life, and he retired quietly to his home at Mount Vernon. I respect his modest leadership.
Drink of choice? Single malt scotch. I used to pick up a lot of it at duty free on my frequent trips to Canada, but the high Canadian dollar (the low U.S. dollar?) has made it much less affordable.
Hobbies? I need to find a hobby so that I have something to do when number two child goes off to college. I do like to cook.
What is one worthwhile book you read in the past year? I think Ezra Levant's Ethical Oil presents an interesting case for the oil sands (whatever you may think of Ezra Levant). I'm just finishing Freedom by Jonathan Franzen, which I find fascinating.
What is one thing you'd like to learn more about? What makes people tick politically, what is it about nurture and nature that gives people their beliefs.
What is your favorite place in Canada and your favorite place in the US? On a vacation many years ago, I spent two weeks in San Francisco, Montreal, and Boston. It was great. Montreal is by far my favorite place in Canada. United States? Different places for different reasons, but for cities I'd have to say San Francisco, Chicago, and New York City. And I love the coast of Maine.
What is one thing you'd like to tell Canadians about the U.S., and/or one thing you'd tell Americans about Canada? To Canadians, I'd like to say, "It's not about you." American ignorance of Canada is not a willful snub of Canada. Most U.S. legislation that affects Canada almost always has another target besides Canada. Most Americans like Canada and Canadians, even if sometimes it's in a very naïve way.
To Americans, I'd say, "Open your eyes." We can learn an awful lot about what works in Canada and why, what doesn't work and why (I'm thinking of health care). We're very similar societies, which makes my work all the more challenging.
***
Also Get to Know… David Archibald, Susan Casey-Lefkowitz, Connect2Canada, Perrin Beatty, David Biette, John Parisella, Sheldon Alberts, Danielle Droitsch, Lee-Anne Goodman, David Wilkins, Christy Cox,Chris Sands, Birgit Matthiesen,  Scotty Greenwood, Luiza Ch. Savage
***
You can follow me on Twitter at luizachsavage